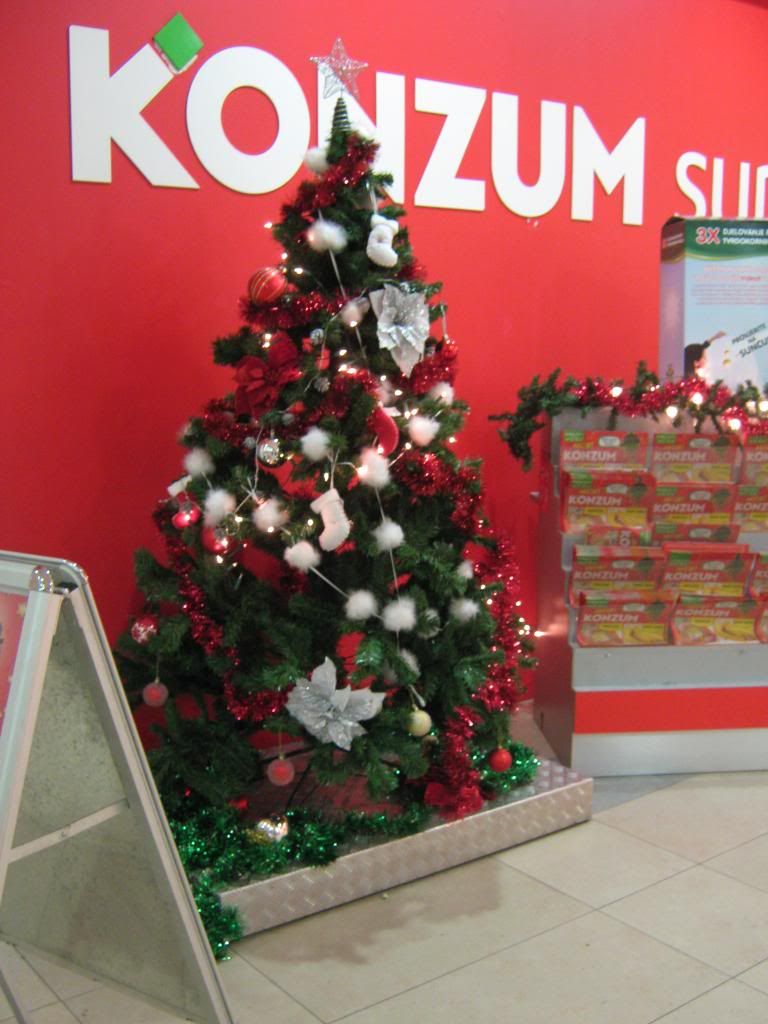 A Christmas tree outside a supermarket in
Zenica's main shopping centre.
The sheer amount of local decorations in preparation for Christmas is something that has really surprised me in recent weeks.
Although this is Middle Bosnia where I am currently located - and the majority of citizens in this area are Muslims - locals are preparing for and, seemingly, embracing the traditional Catholic event.
Not only are the typical Christmas lights going up on people's apartment windows and houses in Zenica, but many local businesses are also getting in on the act, decorating their stores with various paraphernalia as well as putting up Christmas trees.
Oh, and bare in mind that December 25 is another nine days away!
Despite the fact Christmas is not a day of celebration in the Islamic calendar, it appears many local Muslims are paying their due respects, and - through the shop decorations and such - even encouraging Catholics to celebrate their special day.
It is worth mentioning that this is very much reciprocal of the respect paid by many local Catholics during the two Bajrams this year - with many wishing their Muslim counterparts a happy and safe day on those occasions through social mediums such as Facebook.
Heck -- some may think I am placing this all on a higher pedestal than it deserves -- but it is really heart-warming to see this cohesion and respect between the two religions.
If only it crossed over into other sectors of society, eh? (
..ahem, politicians, ahem..
)
Further, it will be interesting to observe how the actual day is celebrated by local Catholics, and if it is at all similar to Christmas traditions in Australia - or even with local Bajram traditions.
Personally, I cannot wait to experience my first 'White' Christmas -- fingers crossed!
More photos of Zenica preparing for Christmas and New Year: