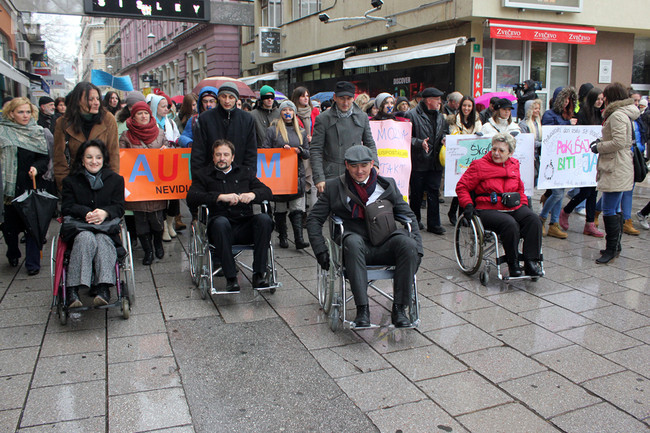 Participants included those bound by wheelchairs.
(Source: Klix.ba)
Hundreds of citizens marched through Sarajevo on Monday to mark the International Day of Persons with Disabilities.
Made up of members of a number of government and non-government organisations, participants of the '
Try to be me
' walk carried placards through central city streets in an attempt to draw attention to the needs of disabled persons.
Government minister - and one of the organisers of the march - Vjekoslav Camber said the walk aimed to send the message that persons with disability must not be ignored.
"By walking, primarily, we wanted to show the citizens and the general public of Bosnia-Herzegovina that it is necessary to accept people with disabilities as equal citizens of this community and of this country," said Camber, the Federal Minister of Labour and Social Policy.
Camber said responsibility for realising this goal is shared between government as well as many other institutions across society.
"What has been the practice so far is to remove people with disabilities out of sight, to put them in some departments and, in school, to make separate classes for them," the minister added.
"What we want to say is that these things should be removed from our system, so that children - regardless of disability - have equal rights and equal education.
"The authority's duty is to provide funding as well as assistants in the classroom, so children have the right to an education, and when they grow up, they have their place as people who can work and contribute to the community."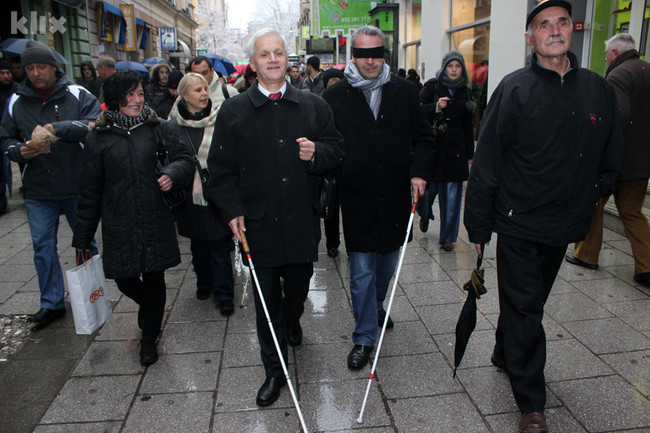 Some of the marches blindfolded themselves to get a feel of
how it is to suffer from a disability.
(Source: Klix.ba)
Other marchers, such as wheelchair-bound Elvira Beslija, spoke how people with disabilities are "discriminated against at all levels (in BiH) - both through legislation .. and in practice."
Beslija explained that many buildings in the country are inaccessible to her and others in wheelchairs.
The '
Try to be me
' walk began from the Cathedral in Sarajevo city centre before concluding at the government institution buildings across town.
The International Day of Persons with Disabilities, December 3, is celebrated every year to promote understanding of disability issues and to mobilise support which provides dignity - and allows for the realisation of the rights and welfare of persons with disabilities.