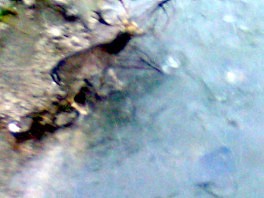 A local reportedly snapped this photo of a deer
making its way down a Tuzla street this morning.
(Source: Klix.ba)
You can tell there hasn't been a whole heap going on in this region of the Balkans lately, as there are a lot of strange stories which are dominating the headlines in recent weeks.
The latest odd occurrence was in Tuzla this morning, where, according to
Klix
, a deer -- yes, that's right, a deer -- was sighted strolling through the down-town area of the city.
Some citizens contacted local authorities upon the sighting, with local policeman Izudin Saric confirming the deer was, indeed, spotted in the city centre.
The deer is believed to have waltzed past Tuzla's National Theatre before escaping across the nearby Jala River.
So, how on Earth did the deer end up in the centre of Bosnia's third-largest city? Well, the jury is still out on that one.
Some locals are of the opinion the deer was evading poachers operating in the forests above Tuzla, whilst others believe he simply became lost whilst on the search for food.
Whatever the reason, it sure is one weird occurrence, and has led to some amusing - yet fake - photographs making their way onto the Internet.
Check out this gem which I came across earlier this evening. (Someone has edited an image of a deer into the centre of Tuzla.):
(Source: Facebook)