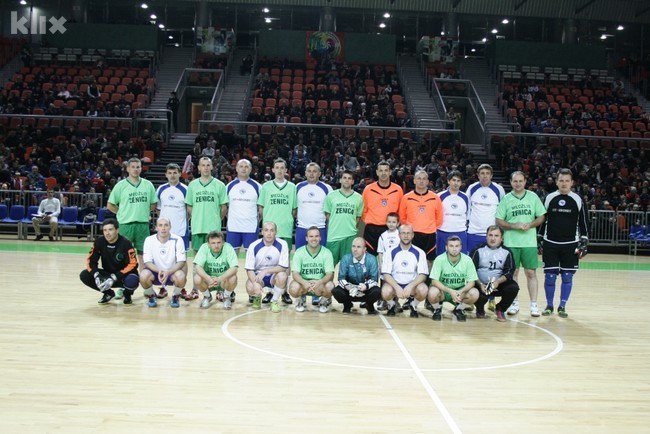 The priests and imams line up together prior to kick-off for
the charity event.
(Source: Klix.ba)
A football match played in Zenica last night between Islamic imams and Catholic priests has helped raise money for much-needed upgrades to the city's pre-school institutions.
An audience in excess of 4,000 turned out for the event, each paying 2 BAM ($1.25 AUD) for entry, with all proceeds from the match headed directly towards funding the upheaval of local kindergartens.
More than just working towards providing a better education for Zenica's children, the evening served to showcase how religious divides can be crossed in order to come together for good social causes. Further, it ignited hope that such inter-religious camaraderie can be more prevalent in other circles of Bosnia-Herzegovina's society.
Spectator Vedad Karic said he would like "politicians to be as unanimous as the priests and imams tonight."
"It would be nice for them and us - especially us," he said. "But, looking at the situation, that surely won't happen."
For the record, it was the Catholics who were victorious on the evening, with the priests posting a 5-3 win over their opponents.
I think it is fair to say, however, it was the kids who were the real winners on the night.