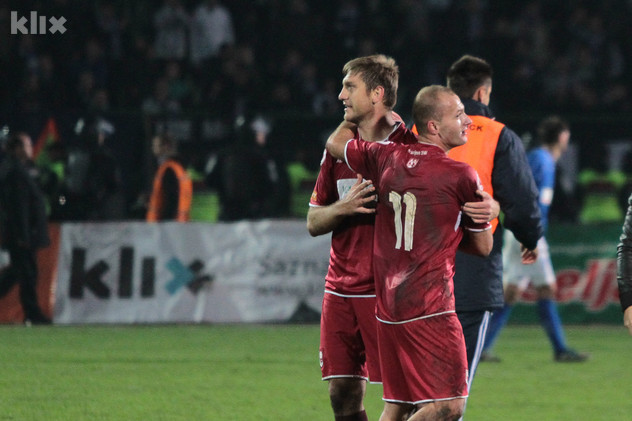 Sarajevo players embrace each other after coming out
victorious 1-0 over their arch nemesis Zeljeznicar.
(Source: Feda Krvavac / Klix.ba)
Last night, whilst in Sarajevo, I was incredibly fortunate enough to attend the 100th instalment of the Sarajevo derby on Kosevo Stadium.
This fixture between old city foes FK Sarajevo and FK Zeljeznicar is undoubtedly the biggest of its kind in Bosnia-Herzegovina, and one of the fiercest in this part of Europe.
The match was a tight tussle, with a solitary goal in the 67th minute from Sarajevo's Samir Nuhanovic enough to gift the home side an important victory, which lifts them atop of the league table three points clear of Zeljeznicar.
Although the football on the pitch was exciting, it was difficult to avoid being distracted by what was occurring off it.
From a few hours before kick-off, the atmosphere on the streets of the city became electric. Thousands of marching fans chanting, jumping and singing was, I must admit, a beautiful sight to behold, and one I will remember for some time.
Once I made my way into the stadium, I set myself up on the East Stand. (Although I was surrounded by Sarajevo supporters, I was trying to remain as neutral as possible; after all, when it comes to BiH, I support Celik and nobody else!)
Despite the fact I am an aspiring journalist, there is insufficient vocabulary available in the English language to describe the atmosphere I witnessed during the match on Kosevo Stadium last night.
Sometimes, it is better to just show with pictures and videos (and that probably doesn't even do it justice).
So, here:
FK Sarajevo
'Now you know well that the city is ours'
FK Zeljeznicar