As you all should know by now, whether you read about me on the news or you are simply one of my friends, Zenica is the city which I currently call my 'home'.
Although most Bosnians would have some idea about the city, the same could not be said about the majority of my Australian readers.
So, I thought now is the perfect opportunity to inform my Aussie brethren a little about this small city nestled away in the mountains. Bosnians; feel free to correct me on any mistakes you think I made. Enjoy :)
Zenica in winter. (Source: ZenicaBlog)
O.K, where do we start?
Zenica is Bosnia and Herzegovina's fourth largest city, and is located just over an hour's drive from the nation's capital, Sarajevo. The Federal Office of Statistics estimates that the municipality's population is more than 127,000, with more than 85% of these inhabitants being Bosniaks (Bosnian Muslims, for those who don't know).
Okay, there's the statistics for you, now for the real stuff ...
How do I pronounce it?
The pronunciation of Zenica has caused a lot of grief for many Aussies that I know, and this includes myself initially. Although many of you probably think the city is pronounced "Zen-i-cha", this is not the case. Rather, the correct pronunciation is "Zen-i-
ts
a". Pretty simple stuff once you learn it.
I hope that some of you will say it correctly the next time we talk!
What is the city famous for?
Undoubtedly, Zenica is most notably known for its massive industrial factories which produce steel. Therefore, to many people in this area of Europe, Zenica is known as 'Steel City'.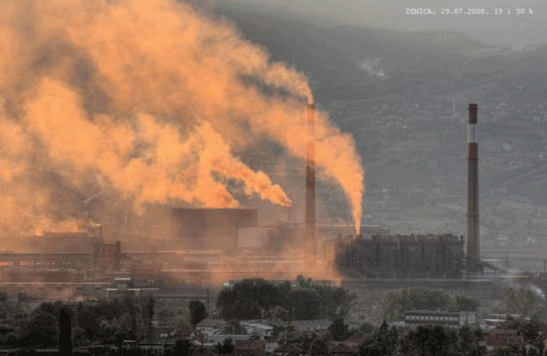 Zenica is well known for its steel production.
(Source: Seedw.org)
In fact, some of the sporting clubs in the city are named "Celik", which is the Bosnian word for 'steel'. (I'll go into more detail about the local football club a bit further down the page.)
However, having these large factories located right near the city does come at a price. Air pollution is rife, with sulphur dioxide (this aggravates asthma and sometimes causes bronchitis) levels sometimes reaching more than three times the European Union limit. Local residents are consistently demanding filters to be implemented in the plants so as to clear up the air; but it seems like not a whole lot is happening on that front.
How does the city go for sport?
Thankfully, as I am a Melburnian - the city which is said to be the world's sporting capital (though probably it's just us Melburnians who claim that) - Zenica is a city rich with sport; particularly when it comes to football.
Firstly, the Bosnia-Herzegovina national football team plays the majority of their matches at Bilino Polje - Zenica's largest football stadium with a capacity of more than 15,000.
Another side which calls Bilino Polje home is the local football club, Celik Zenica, which is, arguably, the pride of the city.
Celik, which is a 3-time national champion of Bosnia-Herzegovina, currently compete in the 'Premijer Liga', the highest football division in the country.
It has to be said that Zenica really bleeds for this football team. The club has one of the highest fan-bases in the nation; and the city itself is covered with wall murals dedicated to the club. 'Robijasi', which in English translates to 'convicts', is the name of the club's supporter group.
October, 2011: Myself and a local posing in front of one of the city's
many murals devoted to the local football side.
The weirdest aspect to Zenica?
Ok, I have to be honest and say that there are a lot of strange things that I regularly witness in Zenica. While most of these have been normalised due to the frequency in which I see them, there remains one particular aspect which I still can't quite get my head around; the amount of stray dogs in this city.
I've mentioned this subject in a previous entry or two, but I must re-iterate the point: the amount of wild dogs in this city is
crazy
! Even after I first saw them last October, their sheer amount of numbers remains amazing to me. It really is out of control now, and although many residents have called for government action, once again, little seems to be happening.
Although I consider myself an animal lover - particularly when it comes to dogs - these canines are very unpredictable, and many of them can turn violent on you in a split second. Lately, it has been common to see them hunt in packs of ten or more. Many parents seem fearful to take their children outside late at night, when the dogs tend to become more vicious.
Once, several months ago, I went 'toe-to-toe' (or is that 'toe-to-paw'?) with a particular dog at the bottom of our building. There were no 'blows' exchanged, but an umbrella came in handy to scare the little bugger off. (I had to include this last anecdote in case my girlfriend or her mother read this. They were both present here, and they both seemed to find my 'fear' very amusing. Pff!)
Meanwhile ... the best aspect(s)?
For me, it has to be the people. True, you may meet some 'bad eggs' from time to time, but that is the case with any large society which you interact with. For the most part, the people I have met have been extremely welcoming and friendly. Despite the fact you are a stranger and completely unknown to them, people will open their doors and their arms to you to make you feel welcome.
When you arrive in a world that is almost completely alien to you, it makes settling in just that little bit easier.
Also a nice - and recent - addition to the city is the Zenica Shopping Centar, a very modern shopping complex which contains a variety of cafes and retail outlets, amongst other things.
Zenica Shopping Centar. (Source: ZenicaBlog)
Where can one stay if they wish to visit Zenica?
Hotel Dubrovnik in Zenica.
(Source: Zenica-Gorica.blogspot.com)
Undoubtedly, the three best options for accomodation in Zenica are Hotel Dubrovnik, Hotel Zenica and Hotel Internacional. Hotels Dubrovnik and Zenica are more recent and modern buildings, and therefore rather expensive, though if you have a tight budget, you can snare a room at Hotel Internacional for around 30 Euros (or less, depending on your bargaining skills).
The links for each of the hotels are here:
A final note?
Yes, yes, I have one.
Here is a song, which, in fact, I discovered from an Australian friend of mine.
The song, titled '
Zenica Blues
', is from the ex-Yugoslav rock band 'Zabranjeno Pusenje' (in English that means 'Smoking Forbidden') - though they originated from Sarajevo rather than Zenica.
Nonetheless, a great song that I am a rather big fan of (even if I don't really know the words!).
I will leave you on this note.
Ciao people, and I hope that now you know just that little bit more about this sometimes-forgotten Bosnian city! Pozdravi iz Zenice!