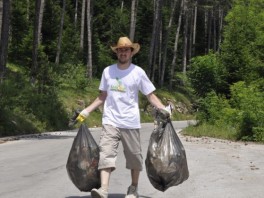 Finally, action is being taken to clean up
Bosnia's natural environment.
(Source: Klix.ba)
In a nation with more than 10,000 illegal rubbish dumps, an action is finally being taken to rectify the situation, with the organisation of a national clean-up day.
More than 900 people have signed up for the '
Let's do it Bosnia and Herzegovina
' project, with many more expected to join on the day.
The action is scheduled for Sunday September 9, with the aim to remove at least 50,000 tonnes of rubbish from more than 110 cities in Bosnia-Herzegovina. Participants will comprise of citizens, volunteers, civic associations, utilities as well as local schools.
It is a much-needed move for this country, which, it has to be said, really falls behind when it comes to respecting its own - and beautiful - natural environment.
An advertisement for the project can be seen here: