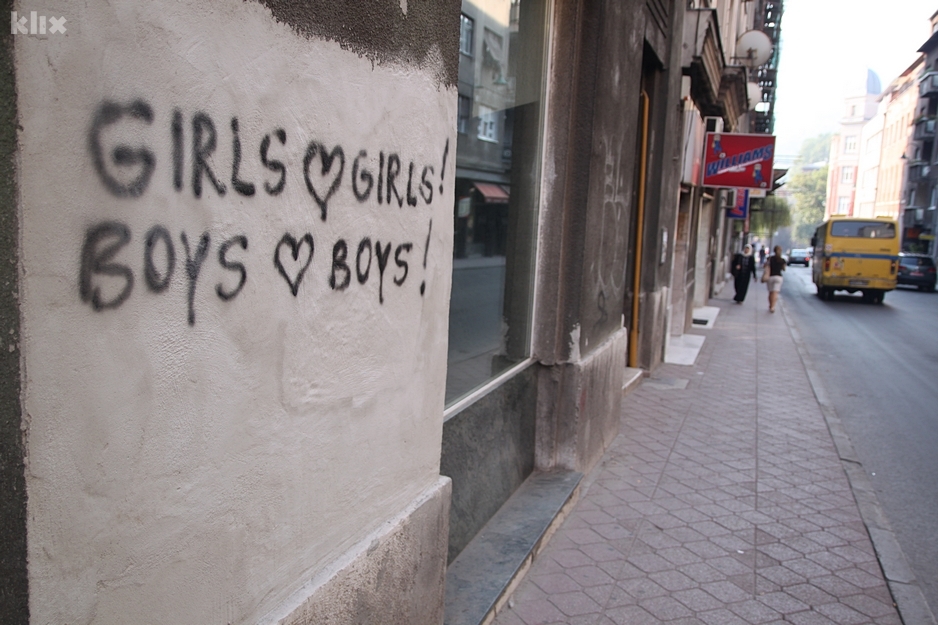 Pro-homosexual graffiti in downtown Sarajevo.
(Source: Klix.ba)
The subject of homosexuality has been brought up again this week following an article published by Bosnian news portal
Klix
.
The
article
focused on the recent rise in pro-homosexual graffiti around the streets of Bosnia's capital Sarajevo; which is of particular interest due to the general negative perception of gays in Bosnia, as well as in surrounding Balkan countries.
Although these nations have had many differences, certain levels of homophobia are undoubtedly shared in each of Bosnia, Croatia and Serbia. When looking at the facts, this is not so surprising. This whole region is full of pious people, so one can only expect that much of the dislike towards homosexuality is a given considering people and their alignment to their religion.
To many, including members of local political parties, homosexuality is an 'illness'; and such behaviour is considered 'deviant'.
Perhaps, then, it should come as no surprise that there have been large, and often-violent, incidents in recent years in each of the three aforementioned countries. In Belgrade in October 2010, more than 100 people, mostly police, were injured, and more than 100 arrested, when thousands turned up to protest a Gay Pride march in the city. Meanwhile, in June 2011, at least five people were injured and around 100 arrested during a similar Gay Pride march in Split.
In fear of further trouble, the Serbian government did not allow another Gay Pride to take place in 2011. Another pride march did, however, occur in Split in June this year, and without major incident like the year previous - albeit with 900 police present to protect around 300 marchers.
Going further back, this time to September 2008, confrontations also broke out in Sarajevo at Bosnia's first ever gay rights festival. On that occasion, the violence was comparatively smaller; though, still, nine people were injured, including two journalists and a police officer, when dozens attempted to counter-demonstrate the festival.
The Sarajevo attack was condemned by leading members of the European Parliament's all-party 'Intergroup' for gay and lesbian rights, with some stating it was detrimental to the nation's hopes of entering the European Union.
Trouble breaks out at the first ever gay rights festival in
Sarajevo, Bosnia-Herzegovina, 2008.
(Source: Towleroad.com)
"It is a cowardly behaviour to challenge the views one disagrees with by violence," said Intergroup president Michael Cashman following the incidents. "I also need to point out that Bosnia-Herzegovina wants to become a member of the European Union and the country should clearly show that it is ready for membership."
Regardless, it is all these occurrences and circumstances which make the pro-gay graffiti in Sarajevo somewhat more significant than just a bit of paint on the wall.
Some of the tags that are appearing include: 'We're here, We're queer'; 'He loves him', and; 'We are gay, lesbian, trans and proud of it.' In fact,
Klix
even
labelled the graffiti as Sarajevo's 'Quiet' Gay Pride.
Regardless of your own personal views on homosexuality, there is little doubting the complexity of the issue of sexuality in countries such as these which are, at least to some extent, driven by religion.
In truth, although most locals don't necessarily support homosexuality, they are content to let people behave as they wish in their own homes. Much anger seems to be stirred up only when gays wish to hold marches or parades in public. (It should be stressed, however, that although many might disagree with the gay pride marches and such, it is only a small minority who actually resort to violence to express their opinion.)
One viewpoint might side with the so-called 'anti-gays' who are angered over public displays of homosexuality; some may think, 'Is it really necessary to literally parade yourself around the main streets of the city when you know that many believe your sexual orientation is deviant and sick?' Whilst another side may take the stand that such demonstrations
are
necessary due to the persistent persecution of gays in society, and to promote further acceptance among citizens.
Nonetheless, it is interesting to contrast popular perspectives of homosexuality in Western countries to other countries, such as those in the Balkans. Much of the Western world seems to be embracing homosexuals and increasing their legal rights; already in the USA, some states have legalised same-sex marriage; while in Australia, there are growing calls for Prime Minister Julia Gillard to pass the same law.
One wonders, however, if that is ever a real possibility here; where religion is so ingrained into the core fabric of the nation, that it doesn't seem like changing any time soon.