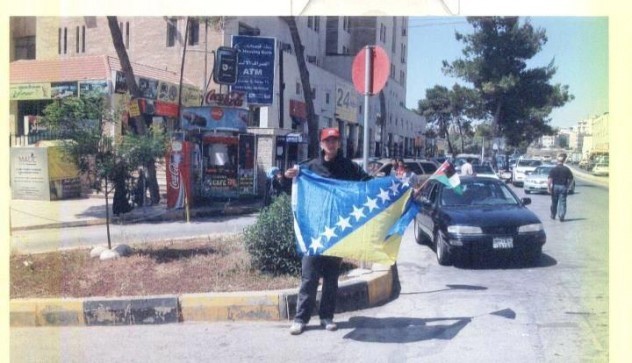 Finally!: Senad with the Bosnia-Herzegovina flag in
Saudi Arabia. (Source: Klix.ba)
Several days ago I brought you the
story of Senad Hadzic
, a man making the 6000-kilometre journey from his town in northern Bosnia all the way to Mecca - by foot!
In the last few days, there has been a promising development for Hadzic's cause, with the 47-year-old finally managing to get his hands on a Saudi Arabian visa.
Although the man from Banovici has faced a number of difficulties on the road so far including trekking through war zones, extreme heat, as well as experiencing health problems and money disappearing - gaining the visa for the large Islamic state proved one of the most challenging.
A number of days ago, Hadzic finally - after seven months and ten days of walking - crossed the border from Jordan into Saudi Arabia. Although, he acknowledges there remains some way to go before he reaches his target.
"There is still 1,300-kilometres to Mecca," Hadzic said. "This will be the toughest section of the 'Path of Light' - in which I will walk on the hot, desert sand and through high temperatures."
The Bosnian took off on his journey on December 10 last year, and intends to reach Mecca in time for the Hajj pilgrimage due to occur at the end of October.