Kosovo Prime Minister Hashim Thaci smiles during a
press conference in Vienna on July 2. (Source: AFP)
Kosovo will gain full rights of national sovereignty from September following a decision by the International Steering Group.

Speaking in Vienna on Monday, Austrian Foreign Minister Michael Spindelegger announced that international supervision of Kosovo had come to an end.

"This is a clear sign of the confidence that is being placed in Kosovo," Spindelleger said. "It is now mature enough to stand on its own feet and to take over full responsibility for the future of all its citizens."

Kosovo's Prime Minister Hashim Thaci welcomed the move, stating it as "historic".
"This day shows how long the journey we have passed as the nation striving towards freedom and independence," Thaci said.
The International Steering Group - consisting of 23 European nations, Turkey and the United States - make the decision almost four-and-a-half years after Kosovo first declared independence from Serbia.
However, the NATO-led KFOR peacekeeping force, along with police and legal experts from the European Union, are expected to remain in the region to assist in ensuring safety and security.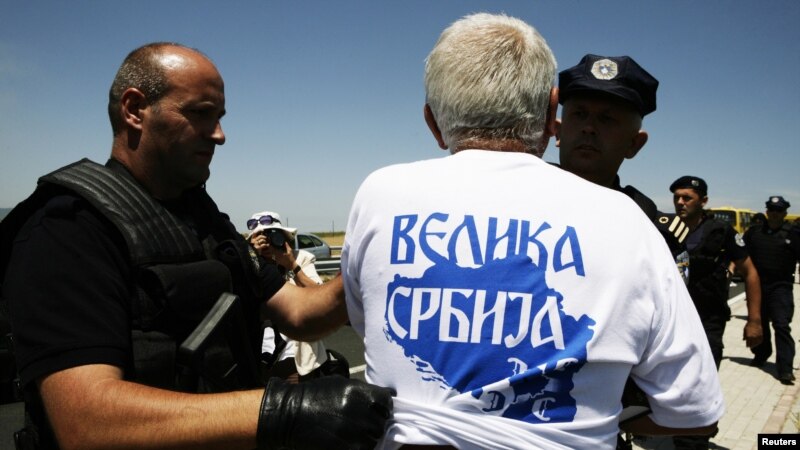 Police detain a man wearing a shirt reading "Greater
Serbia" during a celebration of the anniversary of the
1389 Battle of Kosovo Polje at Gazimestan on June 28.
(Source: Reuters)
Tensions remain high between Serbs and the ethnic Albanian majority, with unrest between the two groups common.
The latest incident occurred last Thursday, when more than 50 people were injured following clashes on the border between Kosovo police and a group of visiting Serbs.
The local Serbs - who account for around 5 per cent of the population, mostly in the north of the country - reject Kosovo's independence, and openly oppose the Pristina government.