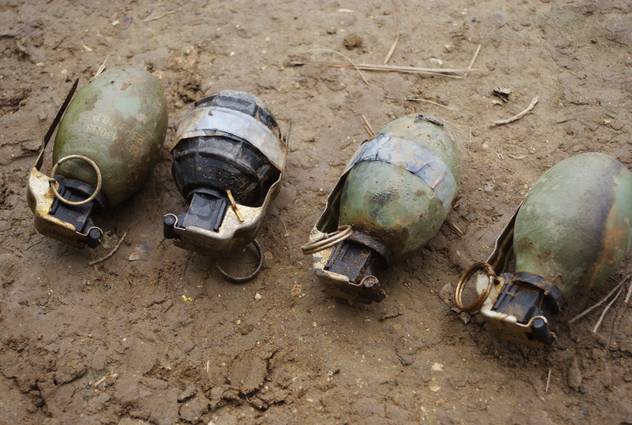 The four explosives discovered at the bottom of the
Sana River in Prijedor, Bosnia-Herzegovina.
(Source: Klix.ba)
Divers have recovered four bombs from the bottom of the Sana River in the Republika Srpska city of Prijedor.
In conjunction with the National Civil Protection (NCP) agency, the divers pulled the bombs from the bottom of the 3-and-a-half-metre deep river a number of days ago.
Although the Sana River is extremely popular with swimmers, the explosives, which were discovered within a square metre of each other, were not said to pose a threat to the public due to their depth.
Nonetheless, authorities in Prijedor, as well as other parts of Bosnia, have requested the public to report any sightings of explosives and weapons.
Drasko Denadija, the associate for civil protection in the Prijedor region, made reference to the discovery at the bottom of the Sana River to state how important is public compliance to ensure safety for citizens.
"These are risky actions, but because of the importance and safety of swimmers we decide on them as a last resort," Denadija said. "Rejection of unexploded ordnances in nature, especially in streams, is unacceptable because it represents a constant threat, and when such items are found in such places - it is very difficult to remove."
According to the Bosnia-Herzegovina Mine Action Centre, there remains an estimated 650,000 unexploded mines and 670,000 unexploded munitions in the country.