Some of you probably caught this at the weekend, however, here is a photo of the celebration from Bosnian footballer Edin Dzeko as he scored for his Manchester City side in their 2-0 win away to Arsenal.
After finding the back of the net, Dzeko ran towards a camera and lifted his jersey to reveal an under-shirt reading '
Za moje mahalce
.'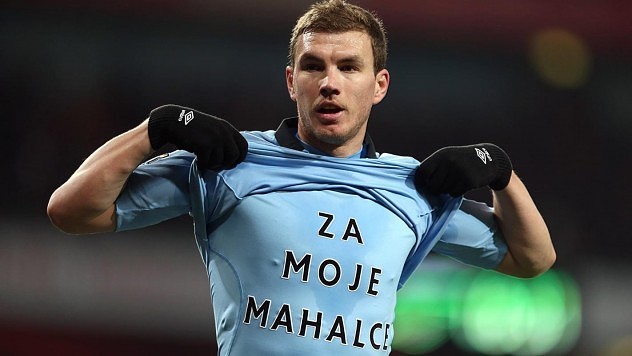 (Source: Klix.ba)
What exactly does that phrase translate to in English?
Well, it is a bit hard to provide an accurate or precise translation, but it does mean something close to '
for my neighbourhood friends
' or '
for my block
.'
As you may or may not know, much of Dzeko's youth was spent growing up in the war-torn Bosnian capital, Sarajevo, with Dzeko recalling during past interviews how he and his friends would regularly kick a football around among the building ruins.
The 26-year-old's goal on Sunday was his eleventh for the season, with the victory consolidating Manchester City in second position on the English Premier League table, seven points behind city rivals Manchester United.