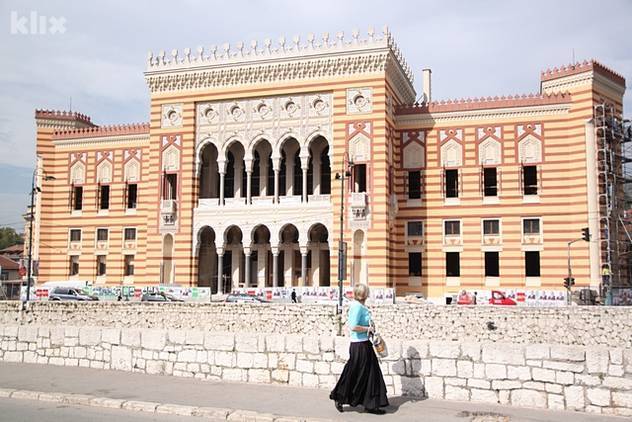 Sarajevo's re-constructed City Hall this week.
(Source: Klix.ba)
After twenty long years, citizens of Sarajevo can finally look at the Bosnian capital's historic City Hall the same way it once stood.
Scaffolding around the building was finally removed this week to reveal the newly re-built Hall, which was destroyed by Serbian artillery fire during the siege of Sarajevo in August 1992.
Before its destruction, the building - originally built in the late 19th century, and locally known as 'Vijecnica' - was a long-standing remnant of the city's Austro-Hungarian past.
Not only that, but Franz Ferdinand, the former Austro-Hungarian Archduke, is famously known to have been present at a 1914 meeting in City Hall before his assassination just minutes later; an incident that let to a chain of events that eventually triggered World War I.
Although the completed exterior-work on City Hall has brought a much-needed facelift to the area, reconstruction and restoration efforts are continuing on the inside of the building.
Officials from Sarajevo's City Administration have estimated that the project should be completed by May 2014.
----
Vijecnica Timeline
Here is how City Hall looked before its 1992 destruction:
Its state following Serbian bombardment:
How it looks now: