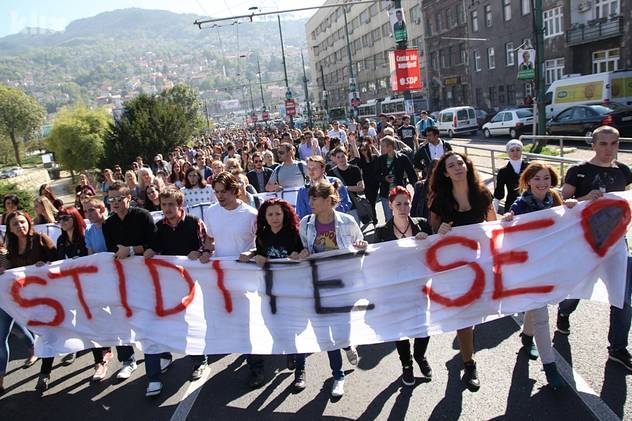 Students, upset at the decision to close the city's National
Museum, march through the streets of Sarajevo carrying
a banner reading, 'Shame on you!'
(Source: Klix.ba)
Close to a thousand youths protested in Sarajevo today upon the closure of the city's National Museum.
Students from the University of Sarajevo gathered outside the building this afternoon to vent their frustration at the decision to shut-down the Museum, which has been in operation for 125 years.
After months of disputes over funding, the decision was finally made several weeks ago to officially close the institute; causing much anger and division amongst Bosnians.
Carrying banners labelled with slogans such as, 'Shame on you!' and 'We will not give you our cultural institutions!', the students marched from the Museum to the steps of the Parliament of Bosnia and Herzegovina (BiH), before eventually making their way to the Presidency of BiH.
The president of the Students' Parliament at Sarajevo University, Ahmed Nurkovic, said that the rally was designed to show that these decisions have an impact on the country's youth.
"We invited the students to give support to the Museum and to send the message that we will not allow the aggressors to destroy our cultural institutions," Nurkovic said. "When they destroy the culture, they destroy the people of Bosnia and Herzegovina. We cannot allow the aggressors from '92 to continue destroying us today.
"Although they are without work and without hope, we want to send the message that young people care about these things."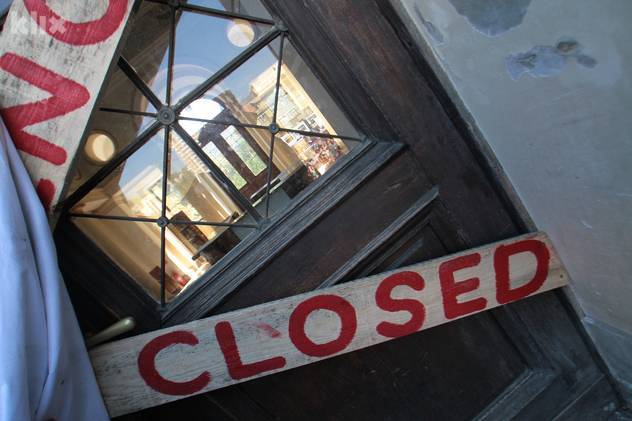 The Museum's doors are shut after 125 years of operation.
(Source: Klix.ba)
Adnan Busuladzic, the director of the National Museum, was brought to tears when addressing the crowd of protesters; thanking them for their support.
"The Museum has always been there for you, but we were forced to take this step," he said. "I don't want to hide my emotions, especially because I can see my students among you. I am touched by your visit."
Busuladzic directed his anger at the government, accusing them of forcing the Museum's closure.
"I know that you understand this situation because you are all educated, young people," he said. "The problem is that this country is led by total primitives and idiots."
Staff will continue to review the Museum's collection each week, although they remain concerned for its condition due to the fact electricity is likely to be switched off.
The National Museum of Bosnia and Herzegovina has been in operation in Sarajevo since 1888.