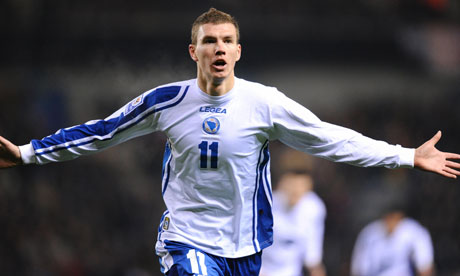 Edin Dzeko will be key to Bosnia-Herzegovina's hopes
of qualifying for their first FIFA World Cup in Brazil.
(Source: Guardian.co.uk)
Now to more positive news; A number of Balkan nations have made promising starts to their qualifying campaigns for the 2014 FIFA World Cup, which is due to be held in Brazil.
After the first two match-days, 7 countries out of a possible 10 are undefeated: Serbia (1 win, 1 draw), Croatia (1W, 1D), Bulgaria (1W, 1D), Romania (2W), Bosnia-Herzegovina (2W), Greece (2W) and Montenegro (1W, 1D).
The signs are good, especially when it is considered that only three Balkan nations (Serbia, Greece and Slovenia) were successful in qualifying for the previous World Cup in South Africa in 2010.
In the case of Bosnia-Herzegovina; they will be looking for their first ever qualification into the World Cup finals - and many pundits believe their current team is capable of achieving that goal.
After obliterating minnows Liechtenstein 8-1 away from home, followed by a comprehensive 4-1 victory over Latvia on home soil a few days later, BiH's national side seem primed for their first 'real' test - an away fixture to Greece in Athens.
Some have suggested that Greece is the only thing stopping Bosnia from finishing atop of their qualifying group, so the October 12 match is sure to draw plenty of attention.

Bosnia-Herzegovina will then back up from that match with a fixture at home against Lithuania; of which I plan to attend. So, yes, I am most certainly on the bandwagon, people! Hajmo Bosna!
Check out the cracking goal scored by Edin Dzeko to round out BiH's 4-1 defeat over Latvia in Zenica two weeks ago: