After being virtually neglected by Bosnian authorities, a seriously-ill teenager from Sarajevo has finally raised enough money to seek urgent treatment in Germany.
Seventeen-year-old Alen Maslo, who suffers from a rare blood disease, needed to find almost 100,000 Euros to fund surgery in Berlin, as no such operation is available in Bosnia and Herzegovina.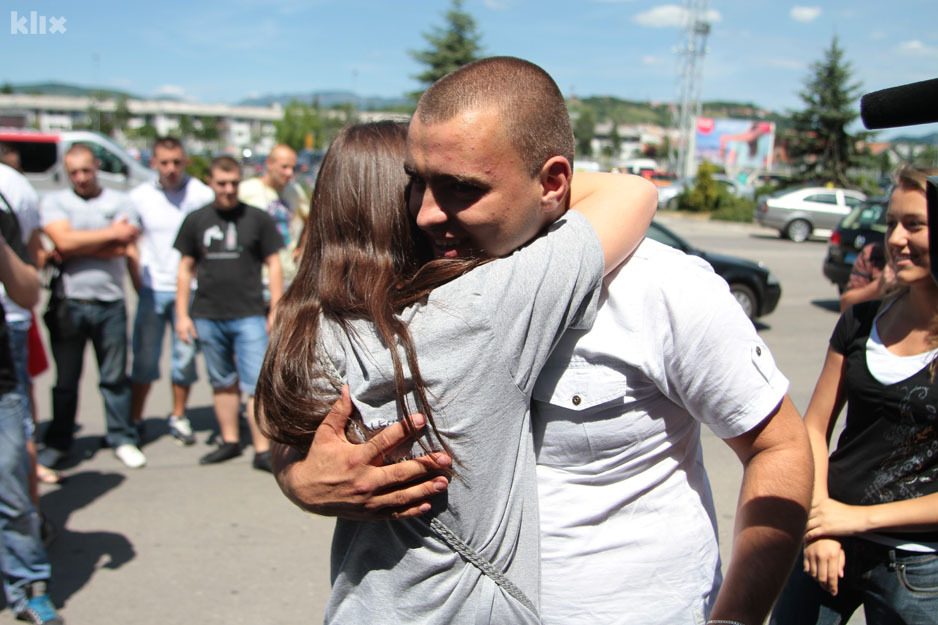 Alen farewells family and friends at Sarajevo Airport on Tuesday.
(Photo: Feda Krvavac/Klix.ba)
Maslo's story caught the attention of the Bosnian public earlier this month after it was broadcast on the popular television show,
Hrabri Ljudi
(meaning 'Brave People'), by host Batko Cehajic.
After the Bosnian government was unable - or unwilling - to assist, Maslo's family were forced to rely on the public's help to raise the costs to treat the Langerhans cell histiocytosis disease.
Alen's cause received a huge boost after Bosnian national team and Manchester City striker Edin Dzeko donated 50,000 KM (Bosnian Marks). Humanitarian Sanela Jenkins soon followed suit with a donation of 20,000 KM.
A charity football match, "Utakmica za Zivot" ('Game for Life'), played between FK Sarajevo and a team of celebrities, also helped raise a further 30,000 KM.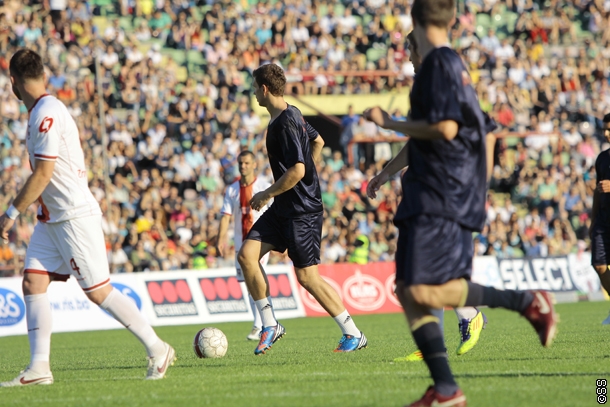 English Premier League star Edin Dzeko was among a number
of famous identities to pull on the boots in a charity football
match to raise funds for Alen's treatment.
(Photo: A. Balic/Sportsport.ba)
Although the funds have finally been raised, Alen's brother, Almin, believes the toughest battle is yet to come.
"What follows is the final and most difficult part," he said.
Almin also remained critical of the nation's authorities.
"We were praying for that life," he said. "The government pushed us away. He is legally entitled to relocation, as he is a minor, but still they refused. The government failed, but we didn't, Batko didn't. For 21 days we have collected funds, done everything and paid in advance."
An ailing Alen flew out of Sarajevo on Tuesday to hugs-and-kisses from dozens of friends, family, as well as Batko - the television host who has played such an important role in highlighting Maslo's case to the public.
Doctors are optimistic the teen will make a full recovery, and, if all goes to plan, Alen will remain in Germany for 19 days before returning home.
All the Bosnian public can do now is wait with bated breath as one of their young men fights the toughest battle of his short life to date.