Hundreds of people have turned out on the Spanish Square in Mostar this evening as a direct response to continuing unrest in the city.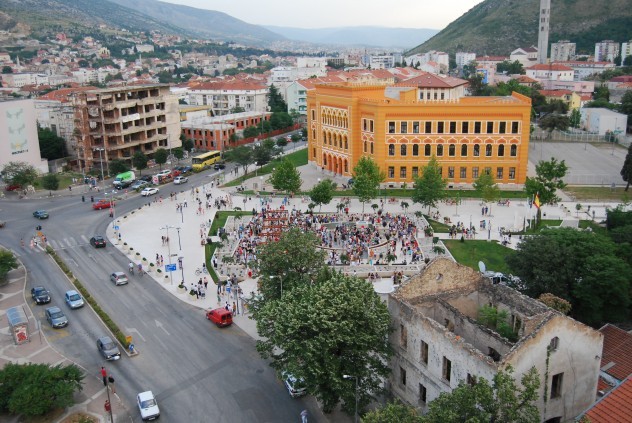 More than 100 people turned out in Mostar's Spanish
Square on Friday evening.
(Source: Mostarlife)
The event, dubbed the 'Chocolate Mess', encouraged people to converge on the central square with chocolates and to share them with fellow citizens.
Mostar - a city divided along ethnic and religious lines predominantly between Muslim-Bosnians and Catholic-Croatians - is no stranger to tension.
The latest episode of problems occurred on Monday evening following Croatia's loss to Spain in the European football championships, with local media reporting that Croatian supporters clashed with police as they attempted to make their way into the Muslim side-of-town.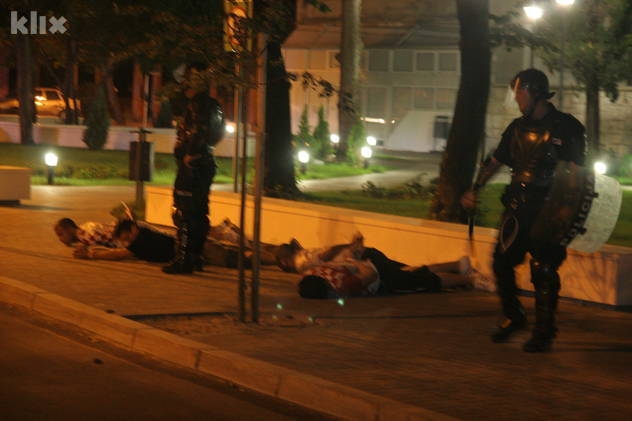 Arrested Croatian fans in Mostar on Monday night.
(Source: Miro Skobic/Fotoservis)
Organiser of tonight's event, Ivan Rozic, himself a Mostar local, said the action was to demonstrate that the ongoing troubles are not a true representation of the city.
"Although I am disappointed every time there is new unrest, and especially in sports where supporters are involved, this idea is more than just a response to hooliganism," Rozic said.
Mostar is not simply a divided city, according to Rozic, who claims that it comprises of a promising youth who are ready and willing for new challenges.
"Mostar deserves to be written about and to be remembered for the positive events - not just the riots," he said.
The 'Chocolate Mess' received a positive response from the public, with chocolate-lovers turning out from cities all over Bosnia and Herzegovina including Sarajevo, Banja Luka, as well as Split in Croatia.
A similar event is being planned for next year.