In two weeks, on the 11th of July, it will mark 17 years since the beginning of the Srebrenica massacre - a 12-day operation by Serbian troops in which more than 8000 Bosniaks (Bosnian Muslims) were murdered.
Despite the years that have passed since the terrible events, many bodies, and other evidence, are still being retrieved today.
Here is the story of a Srebrenica victim whose body was found with, amazingly, an undamaged hand-written letter under where his shirt was.
The letter was directed to his lover, who, for years, did not know of his fate.
In 2010, the woman wrote a letter directed back to him.
These are the English versions of the letters.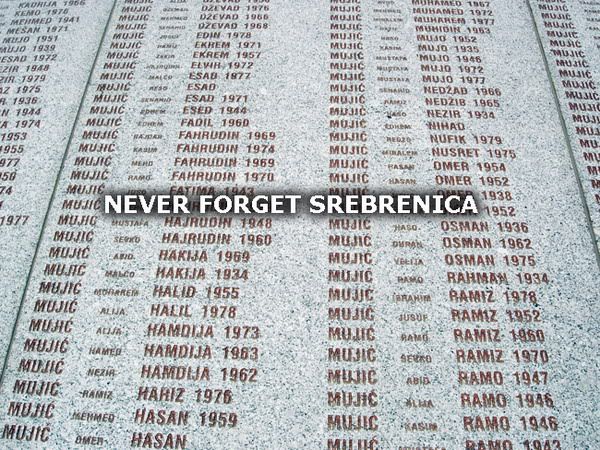 My only love. Please don't cry, if you receive this letter. There are still three brothers next to me, so we will share the pain. I'm hoping that now you are in the city of salt. Where I was buying gifts for you for every holiday and sometimes I was lieing to others that I must go there on a trip, but I just wanted to make your wishes come true.
Since yesterday a lot of people have been killed, this area is a story without an ending, whose letters are blood of our people from Srebrenica, Vlasenica, Zepa, Bratunac and your Zvornik.
In a few hours it will be my turn. I pray to God that I won't be tortured, and if they want to do that to me, I will ask them to kill me as soon as possible. They are not all the same.
I know that you always feel me...
I will give them our hidden treasure...
That we were holding for years for son...
To make my death easier...
So that you can feel it less...
Don't worry, please, I am not afraid...
I was putting in effort from the first day, so that you would always be at hand, I didn't want to be rude in your eyes, if I offended you...
Forgive me...
In this moment I'm looking at them. How they are coming towards me. Don't worry, God is with me. I must stop writing, I will put this letter on my chest, on my heart, and always it belongs just to you..
I love you my only.
11.05.2010. Tuzla.
Until yesterday, I didn't know that you were writing with your soul, in the last minutes of your life. They said that your bones were so long under the ground - our silver ground - yet the letter was saved in your shirt. On the place where your heart is...
All the drops of rain, nor the icy snow, couldn't destroy even one letter.
And even my tears couldn't, even though I was crying as I read...
I don't know to whom I will send these words, but I wanted to respond to you. So let them say I'm crazy, but I didn't stop loving you...
Whoever it was that said time heals all wounds, didn't experience wounds like mine, and like all mothers, women and children of Srebrenica...
I was feeling every one of your moves, it was hard for me to hide all of this pain, in front of our only son.
As time went on, he found out the truth, so he was mentioning your name in every prayer.
The way of death and our people...
And to me the unknown name Argentaria...
We weren't welcome, in Sarajevo, nor the city of salt.
I don't know what bothered the Sarajevo ladies and girls about my dimija.
I was only going to the city to discover your fate. I didn't want to bother anyone...
There were a few days where I didn't know about myself...
I was asking for joy from God, for your body to appear.
Like every night after work when I was waiting for you...
On this same day in two months I will pray with my son to the Lord, and he will take your soul with himself.
I will send the cold wind from the Drina to wipe away my tears at the funeral while we are covering your bones with our silver ground.
I will speak the same words from my lips, like that first Spring - That I love you.
N.D